The Complete Personal Injury Lawyer SEO Guide
Is personal injury lawyer SEO still crucial? The short answer is yes! SEO is a powerful way to connect personal injury attorneys with clients actively searching for their services online.
Part 1: The Basics of Personal Injury Attorney SEO
It's normal for accidents to happen as we carry out our daily activities. From car accidents, slip-ups, and falls to workplace injuries. When this happens, the victims typically head to Google to search for personal injury lawyers within their locale.
As a personal injury attorney, you aim to drive these searches to your firm. Unfortunately, your website won't be visible without a solid personal injury lawyer SEO strategy due to the high competition in the lawyer SEO space.
This article will walk you through successfully implementing your personal injury attorney SEO strategy.
Importance of Personal Injury Lawyer SEO
Personal injury lawyer SEO is a tried-and-tested marketing strategy that ensures your law firm's website is visible to those interested in your services.
You can leap ahead of the competition and refine your SEO for Personal Injury Lawyers' strategies to target clients from specific industries or locations with the right approach.
Personal injury lawyer SEO is essential because hundreds of thousands of people search Google for personal injury lawyers every month.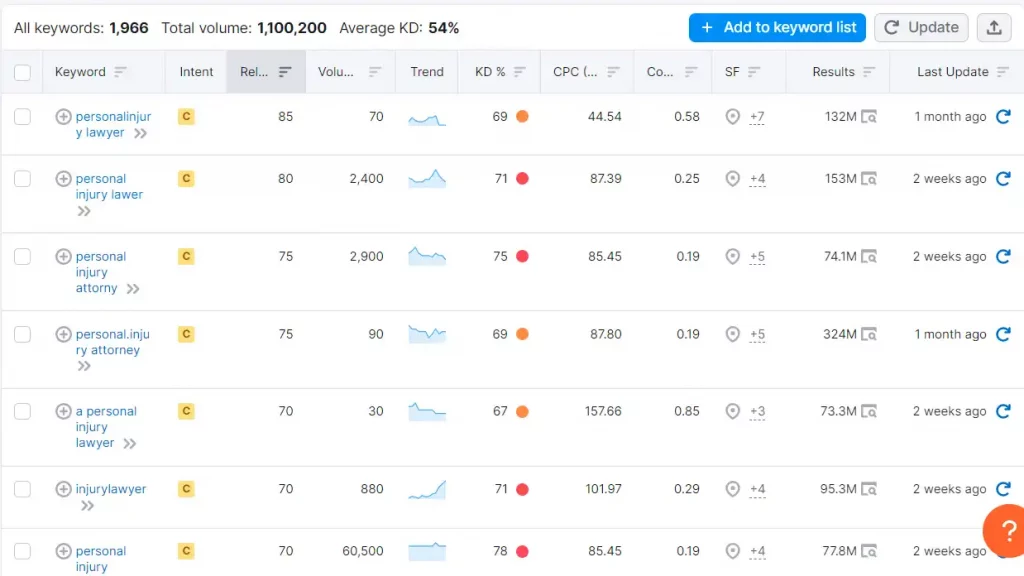 Many people also search for personal injury lawyers based on location.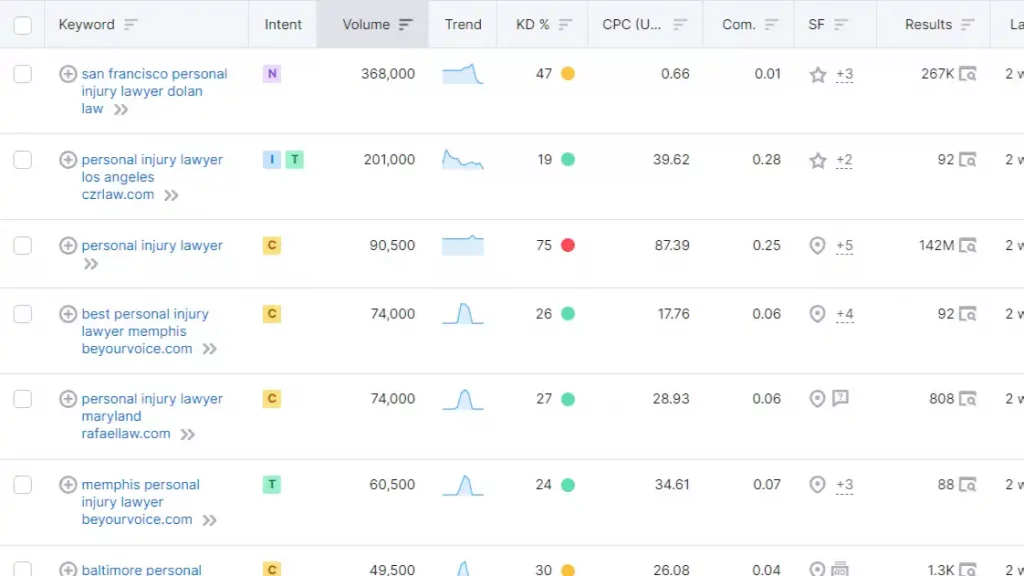 If your law firm doesn't show up when people in your area search for your services, you are missing out on business.
Here are some stats that elaborate on how vital personal injury attorney SEO is for your practice:
More than 1.4M global searches for personal injury lawyers are conducted monthly.
Every month, there are hundreds of thousands of searches for personal injury lawyers within specific locations like 'personal injury lawyer in Los Angeles, personal accident lawyers near me, and personal injury attorney near me.'
Can I Implement Personal Injury Attorney SEO?
Yes! The foundations for running your SEO campaign are simple, and you can start alone. However, with time, you might require help from law firm SEO professionals to handle the technical aspects, such as fixing technical issues on your website, creating SEO-optimized content, and building links. 
But for the basics, such as local SEO, you don't need a degree in computer science to execute.
Part 2: Optimizing Google My Business Profile
According to a survey by Chat Meter, near me" or "close by" type searches grew by more than 900% over two years. A typical Google search for the query 'personal accident lawyers near me' produces two types of results.
Google map results
Organic results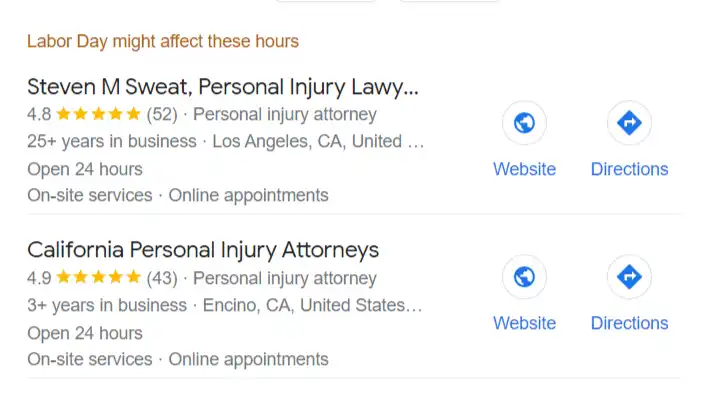 Your law firm can rank in both of them. However, you must claim or create a Google my business profile to be able to show up in the map results.
Here's how to claim or add a Google my business profile and optimize it:
Add or Claim a Business
You'll do this through Google Maps. Check out Google's guide.
Select Your Business Category
This should be straightforward. You can opt to register as a:
Law Firm
Lawyer
Personal Injury Attorney
Remember to be as specific as possible when choosing a category.
Set Your Service Area
When selecting your service area, keep in mind the following:
You can have up to 20 service areas.
The boundaries of your overall area should not extend farther than 2 hours of driving time from where your business is based, as per Google's guidelines.
Add More Basic Information
Add more information such as your hours of operation, contact details, website, and possibly photos of your offices and team. Take note it's not mandatory but highly recommended – the more complete a profile is, the better your chances of earning your potential client's trust.
According to a study by search engine land, Google Business Profile (GBP) listings with 100 images or more get 520% more phone calls. Complete and accurate GBP listings get 7x more clicks than those missing info. They are 70% more likely to attract location visits, indicates Google.
Add Services
Fill in the details accurately to ensure potential customers understand what you do clearly. This will reduce unwanted inquiries and help customers to know if you can solve their problems.
Get Listed on Industry and Location-specific Directories
List your personal injuries law firm on local directories. Most directories list your business website, phone number, and address.
Get More Reviews
Reviews are crucial for driving more business to your injury law firm and ranking your local pack.
According to Moz's research, reviews determine 13% of your business's chance of ranking in Google's Local Pack. Your Google My Business (which places you in Maps) accounts for 19%.
Here is how to get more reviews for a personal injury law firm:
Create a review link using your Google My Business profile. Send it to your customers to request their feedback.
Convert your review link into a QR code and print it in your law firm's stationery, such as business cards, profiles, reports, etc.
Request previous customers to share their feedback through your link.
Share your review link on your website and email marketing campaigns.
Part 3: Identify the Best Personal Injury Keywords
People will not always click on your local pack listing. They also click on organic results. You also have to optimize your law firm's website for organic search.
To do this, you'll need to start with keyword research.
When it comes to personal injury attorney SEO, keyword research is essential. Optimizing your website and content for search engines would be impossible without keywords. And without SEO, your website would be lost in the sea of the internet.
Keyword research allows you to find the right keywords to target for your website and content. It also lets you understand how people search for your law firm or services. And armed with this information, you can make better decisions about your personal injury attorney SEO strategy.
If you're new to keyword research, don't worry. Here is an SEO keyword research tutorial to help you get started.
Part 4: Valuable Content Boosts Personal Injury Lawyer SEO
As much as it's crucial to determine the keywords you want to target, creating pages you'll drive them to is equally important in your personal injury attorney SEO strategy.
Here are the pages you need to create:
Service Pages – Make sure that each service your law firm offers has its page.
About Page – Create an 'about page' that highlights your expertise and authority and builds trust.
Part 5: On-Page SEO for Personal Injury Attorneys
Now that you have your service pages, it's time to optimize them to maximize their SEO potential.
Here are a few ways to achieve this:
Craft compelling title tags and meta descriptions.
Title tags and meta descriptions are essential as they are what the searcher sees in the SERP (search engine results pages).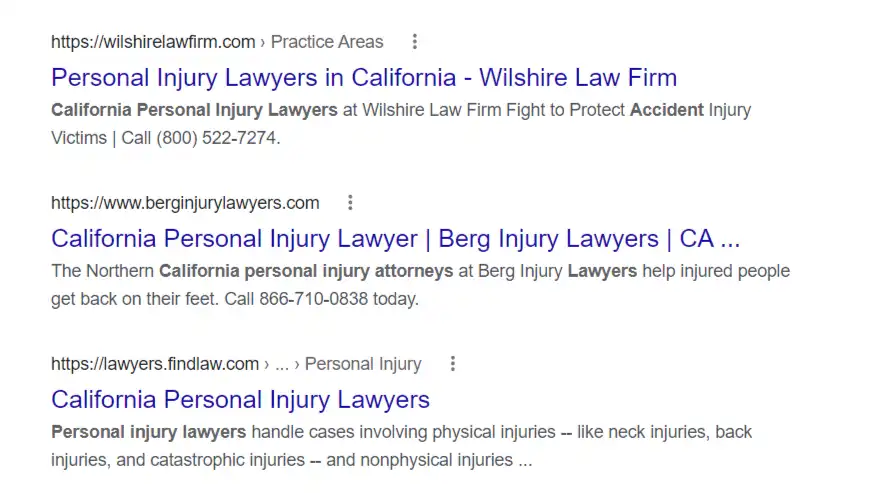 Make sure these are as compelling and accurate as possible. Don't 'overdo.'
If your website is on WordPress, use a plugin such as Yoast SEO or RankMath to insert title tags and meta descriptions.
Here is a guide on how to enter SEO meta titles, descriptions, and focus keywords in Rank Math.
Use short, descriptive URL slugs.
Use descriptive URLs to help searchers understand a page's content before clicking. It's a good habit to keep them short and simple. They get cut off when they are too long.
Here's an example of a good service page URL: service-name
accidents-claims
Don't stuff keywords in your URL; however, if it fits perfectly, you can use your keyword as the URL, such as personal-injury-lawyer-utah.
Part 6: Technical SEO for Personal Injury Attorneys
Technical SEO is all about optimizing your website for search engines. This means ensuring your website is easy to crawl and index. It also means making sure your website loads quickly and is mobile-friendly. While all this may sound like a lot of work, the good news is that the basics are straightforward.
This section will explore setting up your law firm's website for technical success and monitoring its health over time.
Plan your website's structure
Your site structure is crucial as:
It helps Google crawl and find all your pages
It helps users navigate your website
Implement SSL
Since 2014, HTTPS has been one of the lightweight ranking factors. It provides a secure way for web visitors to access web pages.
To confirm your website has valid HTTPS implemented, check for the padlock icon on your browser address bar.
If your website doesn't have SSL installed, contact your hosting provider.
Monitor your SEO health
You must monitor your website's code structure, sitemap, and robots.txt to ensure everything is healthy. While all this may sound like a lot of work, the good news is that you don't have to do it all yourself. You can hire a specialized technical SEO agency to help you. Once done right, the benefits will be well worth the investment.
A code such as <meta name="robots" content="noindex" /> can appear harmless, but in reality, it stops your website from appearing on Google.
Part 7: Link Building for Personal Injury Lawyers
Backlinks are one of the most vital ranking factors. The stronger backlinks you have, the higher your chances of ranking higher and getting more traffic.
Unfortunately, link building is one of the most challenging parts of SEO. Some of the methods you can use to build backlinks for a personal injury law firm include:
Guest blogging is writing a blog post for another website and earning a link to your website.
Replicating competitor backlinks: you might not be able to get all of your competitors' links, but you can at least get some. Ensure the content on your website is better than your competitors to encourage natural backlinks.
Blogger Outreach: refers to putting your content in front of relevant bloggers and journalists by sending them personalized emails. The primary objective of blogger outreach is to convince those with large targeted audiences to talk about you and link to your website.
Part 8: SEO Content Marketing for Personal Injury Lawyers
Don't restrict your website to only rank with your service pages. There's massive potential organic traffic if you create helpful content that your target market is searching for.
Apart from attracting colossal traffic, your content will also earn natural backlinks when the information is helpful. This is especially true if your website ranks in the top organic results.
To do this:
Research proven topics for which people are searching and aren't too challenging to rank. You can use the keyword research process you used earlier to do this. However, concentrate on the questions. You could also explore other tools such as Answerthepublic, Buzzsumo, and exploding topics.
Write and publish an optimized blog post. The basics of an optimized blog post are:
Match search intent.
Easy to read with short paragraphs
Compelling title
Short descriptive URL
Build links to the blog post. However, articles that rank top typically attract natural links.
Part 9: Tracking SEO for Personal Injury Lawyers
To check the performance of your website on Google search, use a free tool such as Google search console. The free tool shows your keyword metrics, positioning, and progress over time.
To check your Google my business performance, search for your business while logged in on your browser. Click on see profile performance on the results page.
You could also conduct manual searches on Incognito to randomly check your positioning. However, we usually encourage you to note your business conversions attributed to your SEO strategy.
What Next?
Personal injury lawyer SEO is vital for scaling your practice.
This guide provided an overview of the most critical components of personal injury attorney SEO, from keywords to link building.
However, if you want to take your SEO to the next level, work with proven SEO experts. Schedule a free discovery call with the personal injury lawyers' SEO specialists.