Law Firm SEO: Ultimate Guide to SEO for Lawyers
The competition within the Lawyer SEO space is insane!
Getting to the top of Google search results is a nightmare for most lawyers. It is exhausting and expensive.
In the past few years, we have perfected our Lawyer SEO strategy and, in the process, helped multiple law firms get more clients from Google.
In this article, I will outline the process you need to follow to kickstart your Lawyer SEO strategy and get more clients through your law firm's website.
Here are some important facts about SEO for lawyers that outline why you need to invest in it:
Before we dive deep, let us, first of all, understand the basics.
So what is lawyer SEO, and why is it important?
Lawyer search engine optimization (SEO) is optimizing a law firm's online presence to improve visibility on organic results pages and attract more clients.
When people search for lawyers or legal services on Google, Lawyer SEO ensures that your law firm's website appears as high up on the organic search results as possible.
Why is this important? Because the higher up your website is on google's search results, the more likely potential new clients are to click on it. And, if you can get prospective clients to click on your law firm's website, you are one step closer to signing them as clients for your legal services.
You can increase your chances of appearing on the first page of search results in several different ways.
It is simple to attract customers and stand out from the competition if you know the criteria search engines use to determine which law firm websites are more valuable to users.
We can use three categories to break down attorney SEO ranking factors, i.e., content, backlinks, and technical SEO.
How does this work? Let us explore that in the next section.
The Important Components of SEO for Lawyers
As you now understand the meaning of Lawyer SEO and its potential for your law practice, let us dive in. 
Lawyer SEO has three main parts influencing your website's ranking. I will simplify them as follows:
Content
Backlinks
Technical SEO
Content
Content refers to the words, images, and videos on your law firm's website pages.
Creating high-quality content is essential to your law firm's SEO success. Not only does it help you attract and engage your target audience, but it also helps you build trust and credibility with them.
And when your audience trusts you, they are more likely to do business with you.
What are the best practices for creating content for law firm websites?
There's no definite way to answer this. However, it comes down to the following:
Your content needs to satisfy user intent.
For example, if you want your law firm's website to pop up for results related to the keyword' immigration attorney in Houston,' your content needs to cover relevant information.
This includes the practice, and the geography, in this case, an immigration lawyer in Houston.
Look at it from the users' perspective. What information do they need on your website to solve their search query?
These include:
Is the law firm located in Houston?
Does the law firm practice immigration law?
Can the firm solve my issue?
How good is the law firm?
How much does the law firm charge for its services?
Is it a trustworthy law firm to work with?
Your website's content should be able to answer these questions. Search engines like Google want the best results for their users to ensure their search intent is met.
If Google feels your law firm's website will comprehensively fulfill a user's intent, it will rank the website higher on the results pages. Such instances will increase the leads generated from Google searches.
Your content needs to be appropriately optimized with relevant keywords.
Keywords are the foundation of Lawyer SEO; without them, your content will not be found by search engines. They are one of the key ranking factors.
Keywords are the search terms or phrases people use when searching for information on the internet.
When you create content for your law firm, you need to use keywords relevant to your topic and that people are searching for. If you use the wrong keywords, your law firm's website won't get organic traffic.
An example of a keyword can be 'how to hire a car accident lawyer or a personal injury lawyer.' Your blog posts or web page should cover the topic well. 
You can use a keyword research tool like Google AdWords Keyword Planner to find the right keywords. This free tool will help you find the keywords people are searching for.
However, if you have the budget, you can invest in premium tools like SEMrush or Ahrefs. Once you have a list of keywords, you can use them to achieve your content marketing goals.
Make sure to use your keywords throughout your content, including:
Title tags
Meta descriptions
Headings and subheadings
Even distribution in the paragraphs
Using keywords too much can hurt your rankings, so use them sparingly.
Focus your SEO efforts on covering entire topics
These are known as topic clusters.
A topic cluster is a group of related topics that are tightly interconnected. For example, a topic cluster covering 'bankruptcy law' might include 'bankruptcy procedure,' 'consequences of declaring the debtor bankrupt,' and 'debt restructuring.'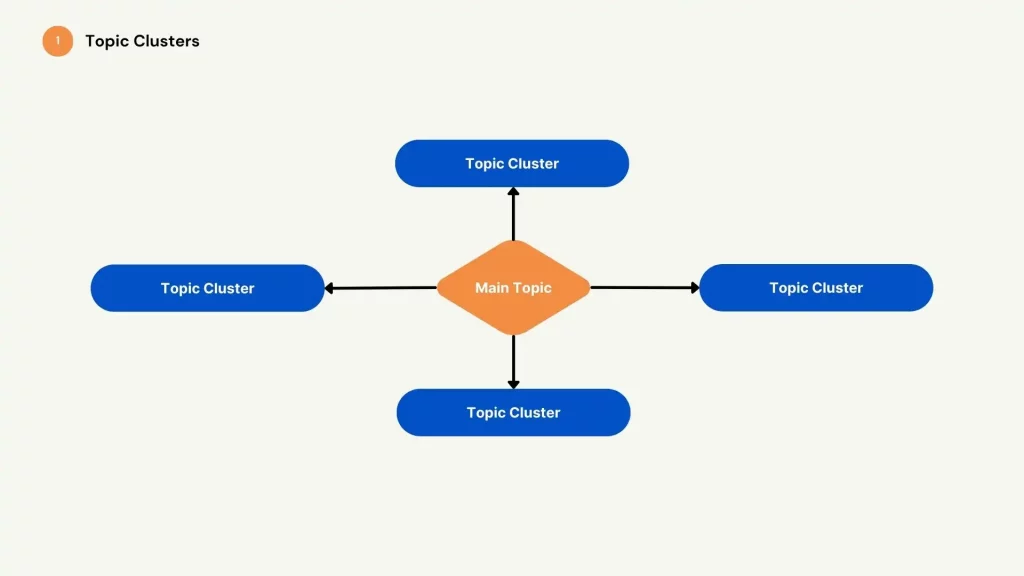 By creating content that covers all of these topics, you can create a comprehensive resource for your audience.
Not only does this give your audience a one-stop shop for all their bankruptcy law-related needs, but it also helps you to rank higher in search engines.
That's because search engines love topic clusters. They see it as a sign that you are an authority on the subject.
If you're thinking about starting a topic cluster, the first step is to choose the main topic. Once you've done that, you can start brainstorming all the related sub-topics.
Now create content that covers all aspects of the topic.
Backlinks and Off-page Citations for your law firm SEO
Backlinks are links that point to your website from other websites. They are an important part of your law firm's SEO because they help search engines understand the relevance and authority of your site. Backlinks are one of the key ranking factors in law firm SEO.
High-quality backlinks from reputable websites signal to search engines that your content is trustworthy and that you are also an expert and authority in your area of specialization.
The more quality backlinks you have, the higher your site will rank in search engine results pages.
Off-page citations are defined as mentions of your website on other websites. These citations can come in the form of a link, a mention, or even a reference to your site.
How off-page citations influence local SEO for lawyers
Off-page citations are important because they help build your site's authority and improve your search engine rankings.
There are a few different ways to get off-page citations. You can submit your site to directories, write guest posts on other blogs, and get involved in online communities.
You can also contact other website owners and ask them to link to your site.
Getting quality off-page citations can be challenging, but it's well worth the effort. You'll see a nice boost in your local search engine rankings if you get a few high-quality off-page citations.
Technical SEO
Technical SEO is a critical component of your law firm's SEO.
Technical SEO refers to optimizing your law firm's website's structure, responsiveness, and speed for search engines and users.
User experience is a vital ranking factor in Google's search engine results pages.
Here are some extra guidelines about technical SEO:
Ensure your law firm's website adheres to Google's guidelines
Google is clear about what you must do to ensure your law firm's technical SEO adheres to its guidelines. Check out Google's Webmaster guidelines for more tips on technical SEO.
Ensure your law firm's website loads fast and is mobile-friendly
Some basic but important factors in technical SEO are:
Your website loads fast (Aim for under 2.5 seconds)
Your website renders perfectly across different screen sizes. Especially mobile devices.
Ensure your law firm's website is easy to navigate
One of the most important aspects of technical SEO is website navigation.
Your website's navigation should be easy to use and understand so that search engines can easily crawl and index your website.
Clear navigation will also help your website visitors find the information they want.
You can do a few things to ensure your website's navigation is easy to use and understand:
Make sure your website has a clear and concise structure.
Use descriptive names for your website's pages and files.
Use easy-to-understand navigation labels.
Why is Lawyer SEO so Important?
In recent years, organic search in the legal sector has had a conversion rate of over 4%.
To further elaborate just how vital SEO for lawyers is to legal firms, organic search accounts for a third of their clients.
At first glance, Lawyer SEO seems too complicated, primarily if your law firm has never implemented it. Either way, it's worth investing in if your law firm aspires to generate more leads and, eventually, customers.
Now that we have defined Lawyer SEO and explored its importance to your law firm let's dive into the factors that influence organic ranking.
How should you implement SEO for Lawyers?
There are two ways to put the above Lawyer SEO strategies into action.
You can opt to implement them yourself or hire a specialized lawyer SEO agency to help out.
Here are a few tips on how to implement SEO for law firms on your own:
Familiarize yourself with Ahref's beginner's guide to SEO and Google's webmaster guidelines.
Research keywords
Keywords are the words and phrases people use when searching for information on the internet.
When you choose keywords for your law firm's website, make sure to choose ones relevant to your law firm's areas of practice, services, and location.
Learn more about keyword research for beginners.
Write and publish your content.
Here are the steps:
Make a list of all the pain points your target customer might experience. If your target customer is the local businesses, you can implement other digital marketing strategies such as text messaging and email surveys to gather more information.
List the priorities your target customer might have before choosing to hire you.
For each practice area and location you identified in the previous step (Keyword research), write a clear summary of your legal services, including information covering your client's priorities.
Remember to include keywords in your content but avoid keyword stuffing. Ensure the keywords are in your title, meta description, and headings. Variations of the keyword should also be in the content.
Use effective calls to action on each page to book more legal clients.
Create internal links within your content to guide users to more relevant content on your website. Use natural anchor texts when implementing this.
Ensure your legal firm's website is technically perfect
Technical SEO is possibly the most challenging part of SEO for Lawyers. We recommend getting a specialized technical SEO agency to help.
However, if you opt to do it yourself, start with Google's Webmaster Guidelines and Backlinko's definitive guide to Technical SEO.
Build your online presence and links
Create or claim all your online profiles, especially Google my business. Google business profile is the heartbeat of local SEO for most law firms.
Add your law firm's phone number and encourage your customers to leave positive reviews.
Keep your website active and updated with fresh content every month.
Build links to your website by following these law firm link-building strategies. Aim for at least five links every month.
Create a social media presence for your law firm. Link these social media pages to your website. Either on the home page, footer, header, or contact page.
Hiring a law firm SEO agency
SEO is a highly beneficial but time-consuming task. Unfortunately, most lawyers don't have the time or desire to learn a new skill. If that's the case for you, here are a few things to remember when searching for an expert who can improve your law firm's SEO.
Budget
A baseline starting estimate for your law firm's SEO budget should be between $2000 – $25000 per month.
This is the range by which most SEO agencies charge for lawyer SEO services.
Things to consider before hiring an SEO agency for your law firm
Potential SEO experts should, at the very least, be familiar with the foundations we described in this guide.
Ask them for examples of their work.
Only work with lawyer SEO agencies willing to explain their process to you. They should be honest about the required work and expected results.
Finally, check their reviews from other clients.
They must be familiar with the industry and potential clients' specific pain points when looking for your law firm's services.
Our Final Thoughts on SEO for Lawyers
SEO for lawyers is a time-intensive process. In most cases, the results don't happen right away. You'll need to exercise patience.
Focus on producing great content that's highly relevant to your target audience, build backlinks, and adhere to Google's Webmaster Guidelines.
Observe and measure your progress using Google Search Console and Google Analytics. These will help you determine the actions and content likely to bring SEO success and attract more potential clients.
Whether you implement SEO on your own or use an SEO agency doesn't matter. You'll increase organic rankings if you execute quality SEO campaigns better than your competitors.
I hope this SEO guide will contribute to the growth of your legal practice.