Small Law Firm SEO (DIY SEO Guide When Tight on Resources)
Like I've always said, the competition within the lawyer SEO space is insane. It worsens for a small law firm or solo attorney with limited resources.
Does this mean small firms or solo attorneys can't benefit from organic traffic? Definitely not.
Like their bigger counterparts, smaller law firms and solo attorneys have the potential to rank and drive more leads from organic Google searches.
Law firms need SEO to complement their marketing efforts like any other business. And today, we look at the non-technical efforts you can put in to improve your firm's digital marketing performance.
Note: This guide won't cover technical matters like your law firm's website design, technical SEO, or other topics that require specialist SEO personnel.
Organic marketing for attorneys has helped law firms dominate SEO results in the recent past. However, when it comes to SEO, the size of the firm doesn't matter as much as the SEO strategy for your law firm does.
This article will explore the simple white hat SEO strategies that small legal firms and attorneys can implement to improve SEO performance and outrank bigger firms.
What is Small Law Firm SEO
Small law firm SEO refers to the strategies and techniques that small legal firms or solo attorneys with limited resources can use to attain better organic rankings on search engines such as Google, Bing, and Yahoo.
Small law firm SEO is regular search engine optimization that larger law firms and attorneys implement but only on a smaller scale because of resource constraints.
How can small law firms implement SEO for Lawyers with limited resources?
For demonstration purposes, I'll use AK Law Solicitors' website. The study will focus on the area to focus on to improve your law firm's SEO performance while short on digital marketing resources.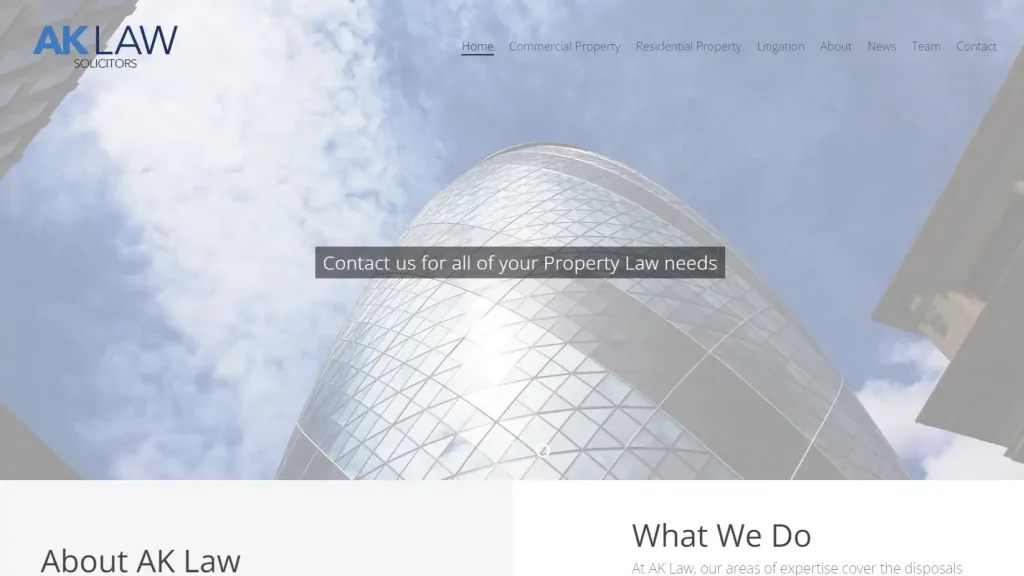 Note: By using AK Law Solicitors as a case study, I don't mean the firm is short on resources. Its selection was solely based on its organic search performance. The case study is for educational purposes only.
AK Law Solicitors can implement the following strategies to attain SEO success:
Improving on-page SEO
Creating content
Focusing on local SEO
On-Page Search Engine Optimization for Lawyers
On-page SEO is optimizing a website's internal pages to achieve better rankings.
On-page optimization plays a vital role in organic search rankings for law firms.
The key on-page SEO factors you should consider for your small law firm's website include the following:
Content marketing strategies for small law firms
In SEO, Content is king. I'm sure this isn't the first time you've read this.
A beautiful law firm website without content is like a beautiful car with no engine – despite its beauty, it won't go anywhere.
Google loves in-depth content that fulfills search intent.
In the eyes of Google, in-depth content showcases Expertise, Authority, and Trustworthiness (E.A.T).
With this in mind, let's look at AK Law Solicitors' website.
As you can see, AK Law Solicitors' website lacks in-depth content on most of its pages. Google refers to this as thin content.
According to Google, thin content adds little to no value for users. Google, in most cases, ensures websites with thin content don't rank top on organic search results.
Sometimes, websites with thin content face a 'thin content penalty.'
Already penalized? Read our Google penalty removal guide.
The lack of content might be one of the reasons why this law firm's website is not performing well on organic search.
How should the law firm address this?
The law firm should address the thin content issue by creating high-quality content that addresses its target audience's needs. This could be in the form of blog posts, articles, podcasts, infographics, etc.
If it can create high-quality content that caters to its audience's needs and helps answer search intent, they will be more likely to revisit the firm's website.
This will help improve the website's organic ranking over time.
Here are a few steps the law firm can take to create high-quality content:
Research
Before creating content, it is important to research and understand what topics are popular among the target audience.
It needs to understand what its target audience is searching for online.
What kinds of legal problems do they need help with? What keywords are they using to find legal information?
Premium tools such as Ahrefs and SEMrush are excellent at this. However, to cut costs, the law firm can use free tools such as Google Trends, Google Keyword Planner, or Ubersuggest.
It might also get ideas from clients' questions and create content focusing on answering them.
Create engaging content
Once the law firm discovers what topics are popular among its target audience, it should create in-depth content.
It should ensure the content answers the searcher's intent comprehensively.
Here are some content ideas AK Law Solicitors can consider for their audience.
Internal Linking
Internal links are links that go from one page on a website to another page on the same website.
They help visitors navigate the site and find the information they want. Internal links can also help search engines understand the structure of a website and index its pages correctly.
Internal links are essential for SEO as authoritative pages pass authority to less authoritative pages. An example can be a page about family law linking to another related page about abortion laws.
Once the AK Law Solicitors' website is adequately populated with content, it should link the pages appropriately to help users navigate the site and search engines understand the website's structure.
Title Tags
Title tags are among the most important on-page SEO elements. They are used to tell search engines what your page is about and help them decide whether to show your page in the search results.
Your title tag should be unique and accurately describe the content on your page. It should be at most 60 characters long.
Including keywords in your title tag can help improve your click-through rate from the search results, giving users an idea of what they will find on your page.
However, you should avoid keyword stuffing, which is when you include too many keywords in an attempt to manipulate the search results.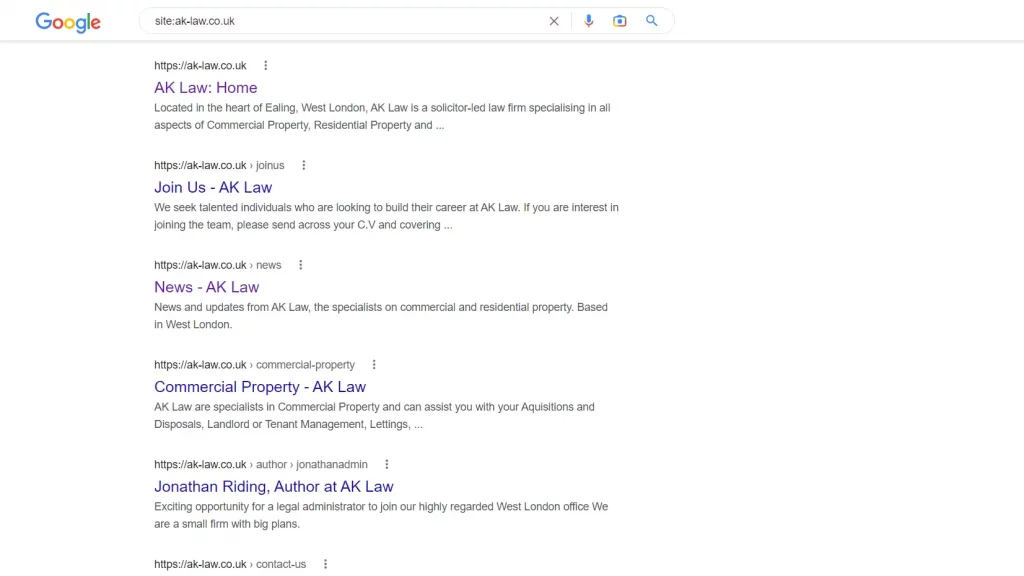 AK Law Solicitors' website title tags need improving. The titles lack keywords and don't encourage users to click on them.
We have determined that the law firm's website is built on WordPress. It can use free plugins such as Yoast SEO and RankMath to create these title tags and improve its on-page SEO.
Meta Descriptions
Meta descriptions are one of the most critical on-page SEO factors. They are a brief description of the content on a web page and show up in search engine results pages (SERPs).
A good meta description should be concise, accurate, and relevant to the page it is describing.
While they don't affect a website's organic ranking, they determine the click-through rate.
SEO experts believe that click-through rates help Google determine the relevance of a website to a user's query. Fewer clicks might lead to reduced rankings.
This underlines the importance of optimizing your meta description.
Local SEO for Law Firms & Lawyers
Local SEO for lawyers and law firms is search engine optimization that involves optimizing your website and online presence for queries with local intent. Queries refer to the phrases or terms people search for when seeking legal services.
Local SEO should be a priority in your small law firm marketing strategy as it drives quality traffic and is cheaper than national SEO. You don't need to be a law firm SEO expert to improve your local rankings, but like any other legal marketing strategy, you need a solid marketing plan.
We will look at how your law firm can dominate local search results through a tried-and-tested law firm SEO strategy.
Google's Local SEO Ranking Factors for Attorneys
Google identifies which law firms need to rank above others based on factors such as:
Relevance – Google checks your website's content for relevance to the searcher's query.
Proximity – Whether your law firm is near the searcher's location.
Authority – Your law firm's website authority is measured using factors such as links pointing to it and the quality of content.
In truth, there are hundreds of ranking factors that Google uses, but this shouldn't deter your SEO efforts.
This guide will explore the local SEO basics for those new to SEO to help your firm drive more leads through local Google search results pages.
For a comprehensive guide, read local SEO for lawyers and law firms.
In a nutshell, the primary local law firm search engine optimization (SEO) techniques are:
Create your listing using a valid name, address, and phone number (NAP).
Use important keywords within your description to increase the likelihood of ranking top of the search results for relevant queries.
Specify the areas of law your firm specializes in.
Request happy clients' reviews about your law practice to help your law firm gain credibility.
Social media plays a crucial role in search engine ranking for many law firms. Promote engagement through social media and Google Business Profile posts.
Create a specific page with local content on your law firm's site.
Optimize local and legal directories to maximize your law firm's SEO efforts.
Leverage Google's screened results to ensure your law firm's SEO strategy pays off.
Small Law Firm Marketing Key Takeaways
Running a successful Law firm SEO campaign is extremely expensive. However, there are small law firm marketing services that can help you craft a successful SEO strategy that will help you compete against big law firms. These marketing agencies usually don't cost as much as larger law firm SEO agencies.
When short on resources to hire specialized SEO companies, getting started with these SEO strategies will help your small firm gain traction on search engine results pages, even if your law firm is starting.
SEO is broad, and this guide only covers a fraction that we feel you can handle independently. I suggest investing in attorney SEO if you need a more detailed SEO strategy.
If you need a firm to build your legal campaign, schedule a discovery call with our experts to fully understand how you can use effective SEO to drive high-quality results for your small law firm.
Small Law Firm/Solo Attorney SEO FAQs
How much do small law firm marketing services cost?
There is a wide range of prices for small legal SEO services. Some internet marketing companies charge a flat fee for their services, while others charge an hourly rate. The cost will also vary depending on the scope and size of the legal SEO campaign. SEO costs for small businesses typically fall between $750-$2000 per month or $5000-$30000 for one-time projects.
How much should law firms invest in lawyer SEO?
According to the
American Lawyer
, large firms spend between 2-5%, and smaller firms spend between 5-10% of their gross revenue. In areas where competition is fierce, expenditure ranges between $2,500 to $3,000 per month.