Ultimate Guide to Local SEO For Lawyers & Law Firms
By the end of this article, you'll be able to:
Develop a local SEO strategy for your law firm
Determine how to achieve higher rankings in the local pack
Improve local search presence for your law firm
Generate quality leads through your law firm website
Local SEO For Lawyers & Law Firms
Are you still wondering if local SEO is vital for legal firms and lawyers?
What if I tell you that 46% of all Google searches seek local information? This number carries over into the legal industry, where 46.5% of people searching for a lawyer take to Google, according to Martindale-Avvo's 2019 research.
The research further shows that referrals from friends, family, and lawyers are still valuable to clients. However, online searches are becoming increasingly crucial for those seeking legal assistance.
Any legal firm starting its search engine optimization (SEO) journey knows the crucial role local SEO plays in getting potential clients online and their recommendations. More people searching for 'nearby' services than for other terms further shows the ever-growing importance of local searches.
But what exactly do we mean by local SEO for law firms? How can attorneys use local SEO to drive more leads and guarantee current clients and prospects the best possible experience?
This comprehensive SEO guide details what you need to know about local SEO for lawyers.
We'll cover everything from optimizing a law firm's website and local listings to building local citations for your law firm.
What is Local SEO for Lawyers?
Local SEO is the branch of search engine optimization that focuses on queries with local intent. Queries are the words that users enter into search engines like Google to find information.
Locals use these searches to find information, goods, or services near their location. Consider how often you've typed "restaurant near me" or "gas station near me." All of these are regarded as local search engine queries.
The same applies to law firm businesses. Local results, such as local maps, are triggered by local searchers. These factors can be significant for lawyers and law firms in a specific region. There are countless variations between "immigration lawyers near me" and "immigration lawyers Atlanta" when it comes to local SEO for lawyers.
Google's Local Pack
An example of local SEO for lawyers might be a search for "personal injury lawyers in california."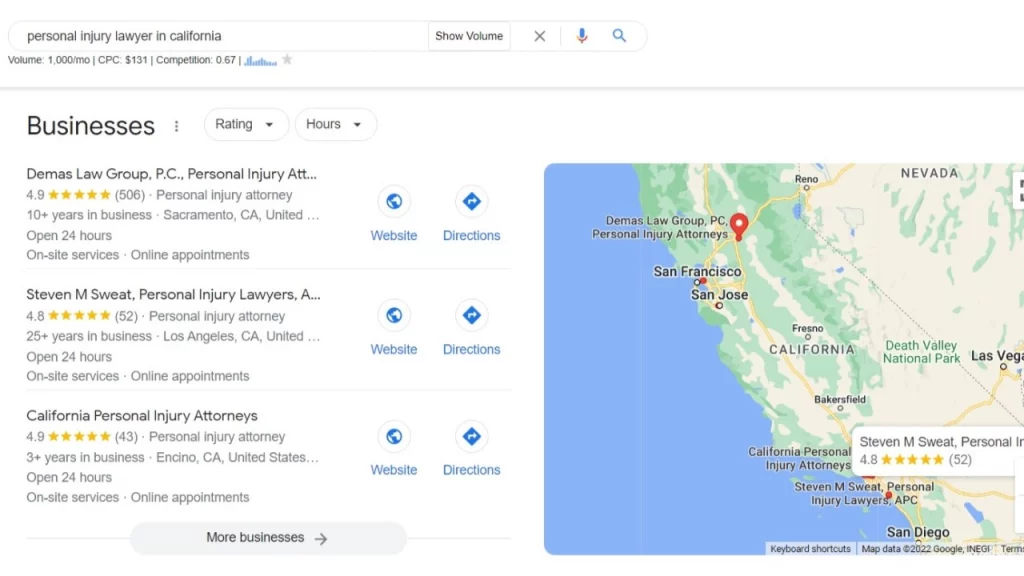 The image demonstrates how the local search pack is typically triggered by search results for "personal injury lawyer" in particular locations.
Google's Local Pack, the feature that displays at the top of search results for local searches, is probably something you've already used frequently.
For instance, the top results that appear when you type "personal injury lawyers near me" or "personal injury lawyers in Philadelphia" will be in your neighborhood.
Legal practitioners rank based on local pack ranking factors like proximity to the user's location, reviews, and relevance to the particular query.
There is more to local SEO for lawyers than just the local search pack. Make sure to:
Optimize your firm's website for local queries.
Improve your law firm's presence across local directories and websites
Put more emphasis on legal websites that cover your practice area and whose audience is in your particular location.
These are vital ranking factors in law firms' local SEO. We'll cover them in detail in this article.
Local SEO for Lawyers
Legal firms should create or claim a Google my business listing to make the most of Local SEO for lawyers.
Google my business and Google's local pack
The primary tool for local businesses, including law firms, to provide information about themselves to Google and become featured in Google Maps and Google Search is Google My Business (GMB).
A GMB listing is a business page containing the law firm's name, location, and phone number so that Google can display that information to users looking for nearby lawyers. Here's a guide to representing your business on Google.
Google uses the details from your Google my business listing for Google Maps and its local pack and local search results for local queries to serve when it comes to local SEO for lawyers.
According to Google, your law firm's local listing must be the most relevant, prominent, and near the searcher to boost your local ranking. While there is little you can do to influence a legal services searcher's location, you can influence relevance and prominence.
How to gain relevance in Google my business local listings
A considerable part of your local SEO for lawyers is serving users content highly relevant to what they seek (search intent).
Example:
Make sure to include terms like "personal injury lawyer" in your GMB listing title and business description if your legal practice focuses on handling personal injury cases. It's also best to include details like:
Reviews about your law practice
Your law firm's website
Accurate descriptions, addresses, and phone numbers across local directories.
Remember that what people say about you (for instance, through Google reviews) may impact how relevant you appear to someone looking for a local lawyer. Your law firm can benefit from positive reviews.
Positive reviews can improve your website's rank in local search results.
How to gain prominence in Google my business
Collect as many favorable reviews as you possibly can for your law firm. Ensure these reviews are visible and relevant online, in directories, articles, and even offline.
Doing this will raise the listing for your law firm to the top of the search engine results.
Get reviews
Reviews will determine whether or not people can find you online. More reviews imply greater visibility and higher rankings. The value of reviews extends even further—they are frequently one of the first things people look for when looking for a legal representative.
What are the best methods to collect reviews to improve local SEO for law firms?
There is no "best" method for improving your local SEO rankings. Most legal practices have to undergo a trial-and-error process.
However, the best local SEO strategies for law firms involve giving every customer an excellent experience focused on their needs. Customers who are happy with your services should give you feedback.
However, if it is simple for clients to leave you Google reviews, you may receive negative reviews if the client has a negative experience with your firm. Make it a point always to provide the best possible client-centered experience. This will undoubtedly help your local SEO strategy for lawyers.
Finally, responding to positive and negative reviews demonstrates that you care about your customers.
Promote engagement through social media and Google my business posts
Even though social media won't directly raise your search rankings, maintaining a solid online presence on the appropriate social media platforms is a simple way to create awareness, which helps local SEO for lawyers. You can improve your law firm's prominence in local rankings by creating awareness among prospective clients.
Your GMB listing can also include blog posts to keep your community interested. Sharing content increases the likelihood that people will find your company through searches. By reading the entire Google support article, you can find out more about postings for nearby businesses.
Optimize your law firm website
The content of your law firm's website has an impact on local SEO for lawyers as well. Google's choice of how to rank a website will be influenced by a law firm's website that contains details about its practice area and a specific page with local content.
Additionally, not all prospective customers will click on the local search result. Some people will scroll and select results from out-of-town searches.
Ensure your website is optimized for searches containing your practice areas and locations if you want the best chance of outranking rival law firms in your neighborhood.
You can include information about your practice area and location on your homepage. If you focus on more than one area of law and multiple locations, you can create separate landing pages for each practice area and geography. Research the right keywords before creating any content for your legal marketing strategy.
Optimize local and legal directories
Although most people search on Google, some search on apps and directories such as Yellow Pages or Yelp. These websites occasionally show up in local search results.
Make sure to include all significant local and legal directories. By doing this, you increase the visibility of your website to potential customers. Ensure that the listings consistently reflect your law firm's address, contact information (including phone and email), and other vital details.
This is a crucial step in local SEO for lawyers, as search engines prefer consistent address information.
Law firms can list on Yelp, Yellow Pages, Apple Maps, Bing Places for Business, and other directories for legal companies. There are also many legal-specific directories available.
Leverage Google's Screened Results to improve local SEO for attorneys
Screened results are one of the things that set local SEO for lawyers apart from local SEO for any other type of business.
By passing other services like Avvo and Justia, Google can provide direct reviews and results for lawyers through screened results. A crucial component of any local SEO campaign is screening the results.
When searchers click "more lawyers" under the top screened results, you can still appear in organic results even if you don't pay for Google advertising. This creates a new search vertical for your law firm.
You can begin using Google Screened by visiting Google's information and requirements pages.
If it's easy for clients to leave you Google reviews, you may end up with negative reviews if they have a terrible experience. To avoid this, you can print out small cards asking for Google reviews when you see clients in your office.
If you want to focus on multiple areas of law and different geographical locations, you can create separate landing pages for each practice area.
Law Firm Local SEO Key Takeaways
A law firm's local SEO is key to attracting clients. Here are some key takeaways to generate leads for your law firm:
Make sure your law firm website is optimized for local search. This includes ensuring your NAP (name, address, and phone number) is up-to-date and consistent across the web and adding location pages if you have multiple locations.
Claim and optimize your Google My Business listing. This is one of the most important things you can do for your local SEO, as it boosts the search results and helps potential clients find your contact information.
Add relevant keywords to your website content, including in the titles and tags of your blog posts and other pages. Researching what potential clients are searching for will help you choose the right keywords to target.
Build citations from high-quality websites. A citation is simply a mention of your business on another website, with your NAP included. The more high-quality citations you have, the better your chances of ranking well in local search results.
Get reviews from happy clients. Google uses reviews as one of its ranking factors, so encourage satisfied clients to leave reviews on your Google My Business profile.
Local SEO for Law Firms FAQs
Why is Local SEO important for law firms?
Local SEO for attorneys is essential because most law firms serve local clients within a specific area. Unless your law firm serves national legal clients.
Is local SEO for law firms still relevant?
Local SEO is still relevant and vital for law firms to find local clients. It helps them be found online by potential customers searching for services within their area. Optimizing your website for local search can help you to stand out from your competition and get more traffic and customers.
What is the difference between SEO and local SEO?
Search Engine Optimization (SEO) is the practice of improving the ranking of a website on search engines. Local SEO is a form of SEO that focuses on optimizing a website for local search results.
What are the key ranking factors in local searches for lawyers?
There are several key ranking factors in local searches for lawyers, including:
The lawyer's location
The lawyer's practice area
The lawyer's reviews and ratings
The lawyer's website traffic
The lawyer's social media activity.